Chevrolet Corvette Stingray Z51 Convertible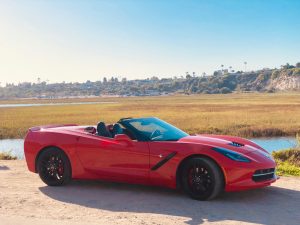 The Stingray is the most powerful standard Corvette in history, which offers an open-top driving experience with no compromise in performance, technology or design.
The Chevrolet Corvette has been fully redesigned. Highlights include a new name (officially, it's the Chevrolet Corvette Stingray), more angular-looking styling, improved interior quality, more power and new technology features.
RENT A PERFORMANCE SPORTS CAR
To view pricing and and start a reservation online for this Performance Sport car, begin by clicking here To rent an exotic vehicle, driver must meet the following requirements: valid driver's license, major credit card. Fully transferable insurance must be verified. Rental costs and additional security deposits are taken at time of rental. Security deposits vary.
Seats 2
Doors 2
Body type 2-door Coupé
Transmission Automatic
Engine 6.2 LT aluminum V8
Horsepower 460 HP
Class Sports Car
Luggage 2 Suitcases / 2 Bags
Advantages of a Corvette Stingray Car Rental
Style: The Corvette Stingray features an exterior with a highly sculpted, beautiful elegance. It is impossible to drive and not get noticed.
Handling: Built with light carbon-fiber, the Corvette Stingray rent a car has a lower center of gravity and can maintain an optimal weight distribution for precise handling. You are in for the ultimate driving experience with electronic stability, traction control and ABS brakes.
Power: The Stingray has a supercharged 6.2L aluminum V8 engine, delivering at least 425 horsepower and 460 lb.-ft. of torque.
Safety: The Corvette Stingray is fully equipped with all the latest safety features and precise handling. For emergency situations, the Chevrolet Corvette Stingray has plenty of airbags, a panic alarm and immobilizer.
In the Round Table Pizza Parking Please ensure you park wisely in order to avoid door dings or scratches. As this a low profile sports car please be very careful of dips, speed bumps, parking space concrete stop blocks, curbs, etc.
This is my personal car and I have opted to share the thrill of driving a Corvette Stingray with everyone however, please treat my car with the same respect and care I do. These fines are meant to be a deterrent from breaking the rules and they will be enforced.
FAQS
What if I spill something?

If you spill (ANYTHING) in the car and it leaves a stain, you will be charged a cleaning fee to remove the stain of $150 or more depending on the severity of the stain. (Please treat my car with the same respect and care I do. These fines are meant to be a deterrent from breaking the rules and they will be enforced)

What if I don't fill the Gas Tank?

If you did not opt for the prepaid fuel you will be charged a fee of $25 plus the cost of Premium Gas at Chevron. or choose the Prepaid Fuel Save time and make drop off a breeze by adding this Extra, which allows you to return my car at any fuel level. Price includes up to a full tank of gas. $124/trip

What if I don't clean the car?

If you did not opt for the post-trip cleaning, we will gladly take the car to the car wash for you. The fee is $50 to have the car cleaned. or choose under extras Post-trip cleaning Return the car hassle-free, without worrying about cleaning up after your trip. It does not cover upholstery cleaning, spills, stains, pet hair, or smoke removal. $20/trip (Please treat my car with the same respect and care I do. These fines are meant to be a deterrent from breaking the rules and they will be enforced)

What if damage the car?

Replacement Value of this Corvette Stingray is 64,995 plus Tax & Doc fees. Should you cause an incident causing a total loss the renter will be responsible for anything not covered by the insurance up to the full value listed above. (Please treat my car with the same respect and care I do. These fines are meant to be a deterrent from breaking the rules and they will be enforced)

Tickets

If you get a ticket/moving violation and we get it in the mail you will be charged an 18% or 25$ fee whichever is more.

What if I smoke?

If you smoke (ANYTHING) in the car you will be charged a cleaning fee to remove the order of $150 or more depending on the severity of the odor. (Please treat my car with the same respect and care I do. These fines are meant to be a deterrent from breaking the rules and they will be enforced)

What if I speed?

We do understand the temptation to speed in the sports car. However, if you go over 85 miles per hour WE, not the cops will fine you at a rate of 125 base rate plus $5 per mile over each time you exceed our speed limit. if you get pulled over by a cop that will be in addition to our fine. PLEASE Drive Responsibly Example: 106 miles per hour ($230.00 fine) (Please treat my car with the same respect and care I do. These fines are meant to be a deterrent from breaking the rules and they will be enforced)

Removal of GPS device

If you remove the GPS device for ANY reason you will be charged $750.00 each time. If it is lost there will be an additional 1500 on top of the 750 for a total of 2250.00 (Please treat my car with the same respect and care I do. These fines are meant to be a deterrent from breaking the rules and they will be enforced)

Burnouts/Tire Damage

Tire Tread depth will be checked when you pick up the car. If you are found to burnout in the car the fine will be replacement of all 4 tires at the current rate of $550 per tire whatever is more. when in your care you will be responsible for all tire care. If you damage the tires or get a nail in the tires. It is your responsibility to pay for repairs as needed. (Please treat my car with the same respect and care I do. These fines are meant to be a deterrent from breaking the rules and they will be enforced)